Books are shipped anywhere in the world and
payment can be made via Paypal or EFT.
All tactile books on this website can be made in either English, French or Italian.
All tactile books on this website have large bold print for low vision readers, as well as uncontracted Grade 1 braille for beginner Braille readers.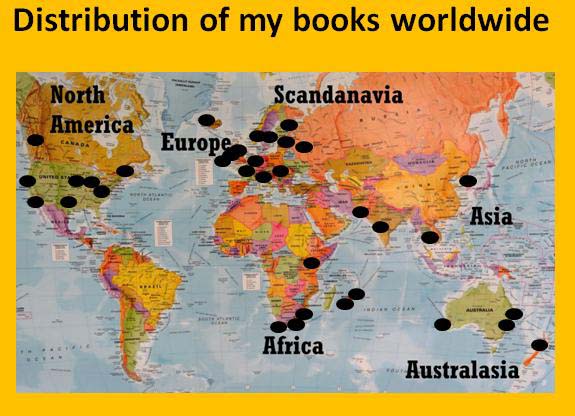 This map shows where we have sold our books since opening up to the
world wide web in 2006.
HOW IT ALL STARTED
The "I read with my hands" series of tactile books and activities for visually impaired/blind children started in 2004 when I enrolled a blind 3 year old girl, Colette, in my preschool. She loved to page through books in the reading corner and pretend that she was reading a story. She often asked her sighted peers to tell her what picture was on the page. This led me to hunt for tactile books that she could appreciate. After much searching in bookstores and on the Internet, I soon realized that there were very few suitable tactile books available for sale. I then started making her simple tactile matching cards and games and this ultimately led to this large series of books that I make for young visually impaired/blind children.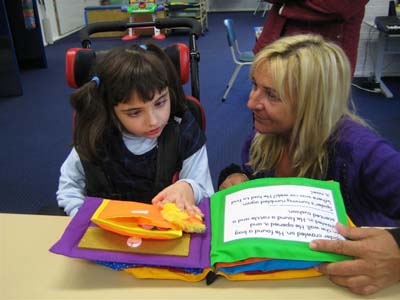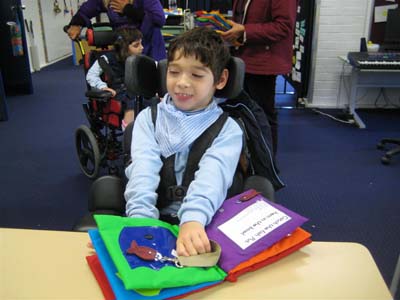 ABOUT MY BOOKS
These "I read with my hands" books have helped teachers and parents to introduce reading in a fun way to young visually impaired/blind children. Schools for the blind, as well as parents of visually impaired/blind children in South Africa and all over the world have given me a lot of positive feedback regarding these books.
Each book has been designed by myself, an experienced pre-school and foundation phase teacher. These books are carefully handmade in my workshop by myself, with the help of Margaret, Mavis and Liyema as part of a job creation project.
These books are ideal for introducing the blind or visually impaired child to the tactile graphics world once the concrete world has been mastered. Large bold print is included on each page for the child who is learning to read large print and the uncontracted Braille version of the word can be found under each word.
I have given the age ratings of each product but this is simply a guide. This may vary according to the child's abilities and experience.
The books on this website can be made in French, Italian and Afrikaans. Arrangements can be made to produce these books in other languages too if you are prepared to send me your text and your Braille.
I hope you enjoy browsing through the catalogue and that you find something suitable for your child.
The order form which includes prices is on the "contact me" page along with a link to a currency converter.
Lynette Rudman
---
ENDORSEMENTS

Although there are tactile books available internationally, many of which are great products individually, this particular range focuses exclusively on the pre-braille and the beginner-reader phase with the particular learning needs of pre-schoolers in mind. They enable more than the introduction of the pre-schooler to tactile media. They aim to meet a variety of learning needs, from skills useful to the acquisition of braille-reading skills and techniques to the learning of key mathematical and language concepts to an exposure of the child to graphic story books. They are useful to pre-school teachers, to parents who would like to read together with their children, to children who wish to "read" and enjoy pictoral representations on their own.

They facilitate not only the specialised education of blind pre-schoolers, but they are also (if required), an all-inclusive strategy towards the achievement of equality by promoting full inclusion at the pre-school level, at the level of family reading and at the level of play. They represent an achievement as pre-braille learning tool, and as an ongoing experience of books in the life of a blind child and an experience of children's literature similar to the experience of a sighted child.

Johan Roos
Designation: former Director of the South African Library for the Blind
Chair of the Libraries for the Blind Section of the International Federation of Library Associations.
A very big thank you to Michael True for mentoring me and encouraging me in the early days of my career in tactile graphics. Through Mike's encouragement, I have achieved far more than I ever could have alone.
"Mrs. Rudmanís interest and dedication to this noticeable area of need impressed me very much. Her enthusiasm for this project was and is without equal. These materials, the I Read With My Hands series, are unique and should be considered a significant innovation in the mastery of reading for children with limited vision."
Michael S. True, M.S.Ed.
Disability and Senior Issues Consultant
New Orleans, Louisiana, USA
Copyright (c) Lynette Rudman 2007
All International Copyright laws apply
All rights reserved. No part of this publication may be reproduced, stored in a retrieval system, or transmitted in any form or by any means, electronic, mechanical, photocopying, recording or otherwise, without the prior permission of the author.

---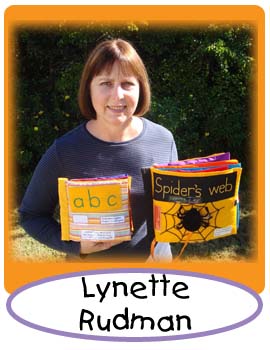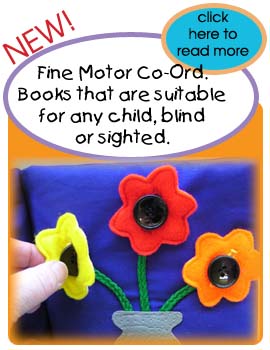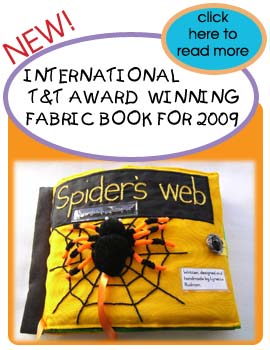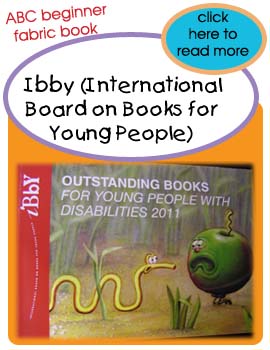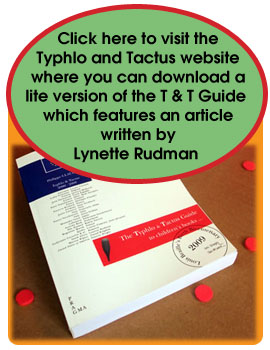 This book is also available in soft cover.
To buy an English sample click here
To buy a French sample click here