POPULAR BEGINNER FABRIC BOOKS
EDUCATIONAL
All of these books are available in English, French or Italian.
A series of 12 soft, cuddly fabrics books for blind toddlers or special-needs children. All books are very simple, interactive and fun. Braille may be added below the text if needed.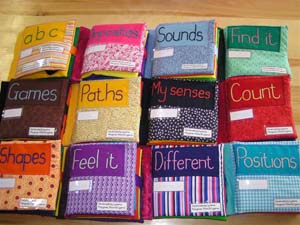 SOUNDS

Fully interactive and fun
Contains 5 different sounds (bells, squeaker, scraper, Velcro and noisy plastic)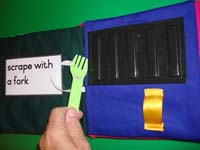 R550 Code:2861
FEEL IT

A book of five textures (rough, smooth, soft, hard, fluffy)
Smaller texture shapes for matching
Can also teach the concepts BIG and SMALL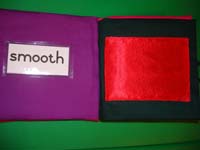 R550 Code:2862
SHAPES

A book of 5 shapes (circle, square, triangle, rectangle, diamond)
Smaller shapes for matching
Can also teach the concepts BIG and SMALL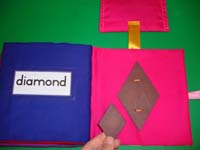 R600 Code:2863
COUNT

Teaches counting of beads on a string from one to five
Includes the number name on left page
The number under the beads on each page is raised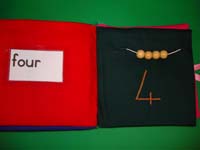 R600 Code:2865
MY SENSES

Fun interactive book dealing with the 5 senses
See the green leaf, touch the multi-textured butterfly, smell the flower, hear the bells and taste a banana like the tactile one on the page.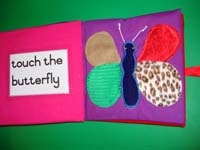 R550 Code:2866
POSITIONS

This book helps the child to find positions in space.
The child can take little snake around the book to find the following positions: in/out; on top/under; in front/behind; left/right; next to/ away from.
The child can then internalise these concepts by finding his position in space in relation to a chair, a table and a box.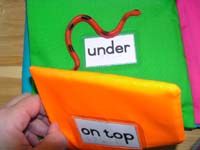 R550 Code:2882
GAMES

Five fun activities for the young blind child.
Includes counting activities, comparing textures, shapes and flowers and finding the correct path for the worm to travel to find his apple.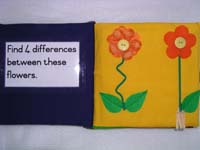 R600 Code:2878
DIFFERENT

This simple book teaches the difficult concept of different to children from 4+ years.
Children have to identify the different object out of 4 objects on each page.
The following concepts can also be taught in this book: the same, odd-one-out, bigger, smaller, rough and softer.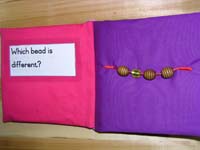 R550 Code:2881
FIND IT

Five different pages of matching textures and buttons
Vocabulary may include names of textures, materials as well as shapes and sizes of buttons.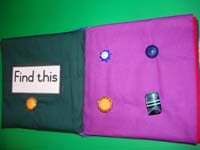 R600 Code:2864
OPPOSITES

Simple comparisons like long/short, big/small, happy/sad, rough/smooth and in/out.
Full of bright contrasting colours and textures.
R750 Code:2879
PATHS

A good introduction to tracing with the fingerpads from left to right in preparation for Braille reading.
Help the fish to find his bowl, the butterfly to find his flower, the worm to find his apple, the bee to find his hive and the snail to find the leaf.
Start with one easy line and by the end of the book you have to find which of the three lines lead to the object.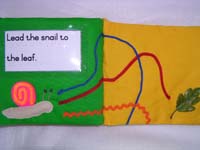 R900 Code:2877

Copyright (c) Lynette Rudman 2007
All International Copyright laws apply
All rights reserved. No part of this publication may be reproduced, stored in a retrieval system, or transmitted in any form or by any means, electronic, mechanical, photocopying, recording or otherwise, without the prior permission of the author.

---